Call (301) 556‑8709 for a consultation. I provide personal attention to every client. I respond to all client inquiries within 24 hours, even on the weekend, and I can also provide evening and even weekend appointments to handle emergencies.
Location, Directions, and Parking
My office is located four blocks from the Rockville Metro station in the Garza Building at 17 W. Jefferson St., Suite 204, Rockville, MD 20850.  The station is also a MARC and Amtrak train stop.  If you are not able to walk up stairs, please let me know and I will arrange to meet you in an alternate location.
Parking
There is a lot and underground garage immediately to the north of the building. The parking lot entrance runs through the other building adjacent to the parking lot, a red brick building around the corner on S. Washington Street, on the east side of the parking lot.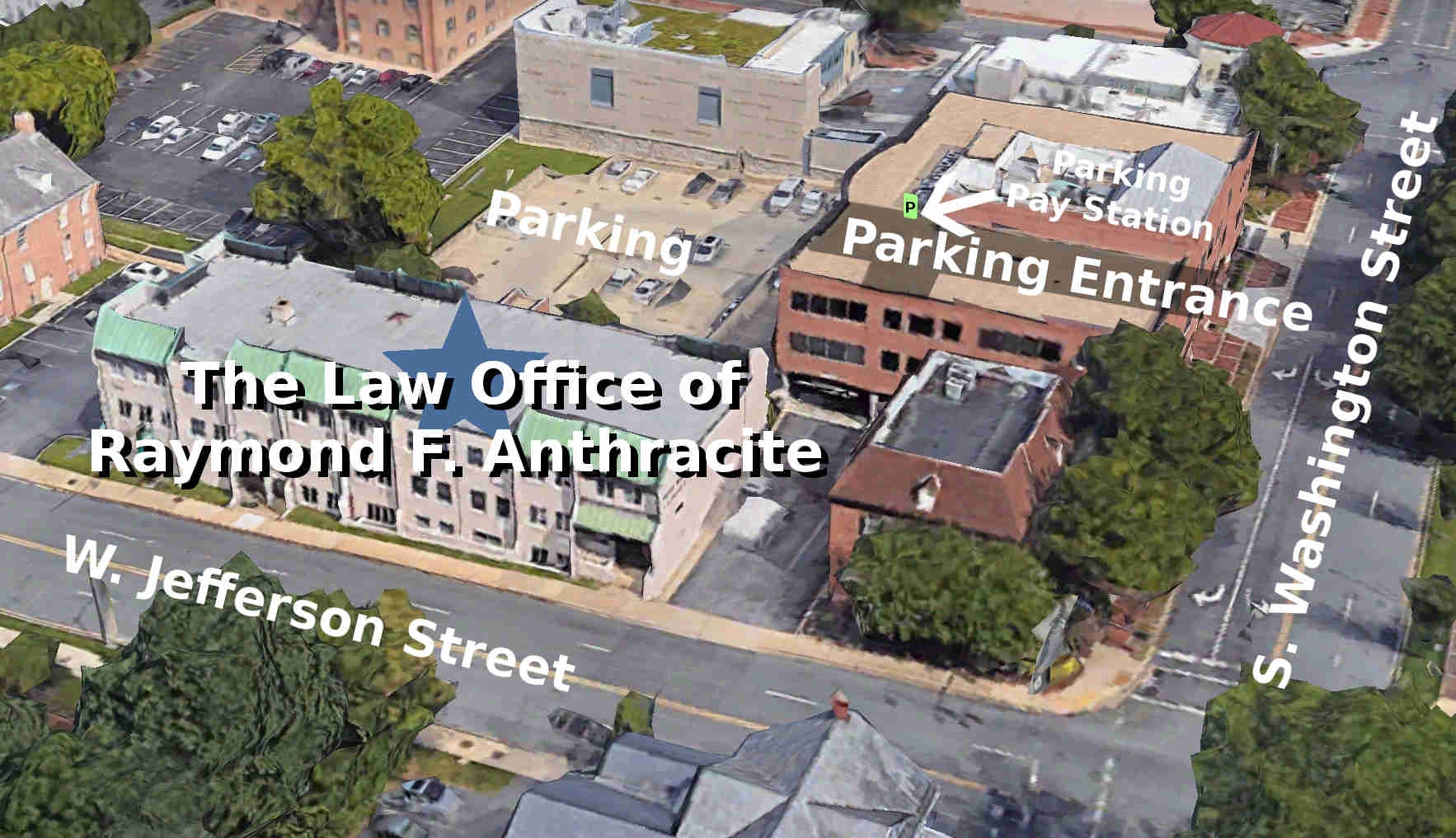 You will have to pay at the station near the entrance to the parking lot right after you park. Enter through the back of the white building, and go upstairs to Suite 204 on the top floor.
You can park for free along Adams Street, starting on West Jefferson and heading north. Adams Street is near the west side of the building. Parking close to the building on S. Adams St. is tight, but free parking is often available if you are willing to park a few blocks away on N. Adams St.
Metered street parking is also available a couple of blocks away to the east and north.
Walking from the Rockville Metro and MARC Station
Take the exit on your left right after you pass through the Metro card readers as you leave from the Rockville Metro Station, and go up across the elevated pedestrian walkway crossing Rockville Pike. Continue straight ahead as you exit the walkway, which will take you down some stairs, across Monroe St., and along the sidewalk of East Montgomery Avenue.
Immediately after you pass the movie theater on your left on East Montgomery Avenue, turn left and proceed one block along Maryland Avenue. You will pass the Judicial Center on your left, and as you reach Jefferson Street you will see the new District Court building across the street.
Turn right on Jefferson Street. Proceed on Jefferson for one block, between the new District Courthouse on your left, and the old one on your right, and go straight across S. Washington Street. Enter the white building straight ahead of you, 17 W. Jefferson, which is located adjacent to and just beyond the BB&T Bank on that corner. Go upstairs to Suite 204 on the top floor.
Riding the Bus from the Rockville Metro and MARC Station
Both the T2 and 63 buses pass by the building. Check the current bus schedule for times and updates.